What is Obeya?
What does Obeya mean you ask? An Obeya means a "big room" (literal translation from Japanese). In this room, every task and goal of an organization is visually presented. This creates an overview and better, more effective collaboration. In short, Obeya is the go-to method to apply your management strategy in practice.
Do you really want to learn what Obeya is and how to use it effectively?
Then join our FREE workshop (in Dutch) on September 27th. Our experienced trainers will guide you in a fun and interactive Leading with Obeya introduction game and share their tips and best approaches to help you shape and execute your strategy.
Why participate?
You'll gain hands-on experience in a life-size Obeya.
You'll receive tips and strategies from two of our most experienced trainers.
You'll discover why Leading with Obeya is such a powerful method.
You'll experience best practices while collaborating with a team on a fictitious case.
You can ask questions and discover how LWO can be used within your own organization.
Leading with Obeya – explained
In this video, Tim Wiegel, author of Leading with Obeya demonstrates what an Obeya used for leading teams and organizations looks like.
What is the origin of Obeya?
Obeya originates from Japan, the Toyota factory to be more exactly. In the mid-90s, Toyota decided to build their car for the next century: twice as fuel-efficient and still affordable to the general public. They had one teeny tiny problem, however: they were running out of time. And so the car needed to be developed faster than comparable cars at the time.
Not only the car, but also the way it was developed were pretty special. Takeshi Uchyamada's team came to an important conclusion while building the Toyota Prius: "The set goals are only achievable, with close mutual collaboration, effective forms of consultation and the ability to solve problems quickly and effectively." In other words: seeing, learning and acting together. And it worked.
The Prius did, in fact, become the most successful hybrid car in the world.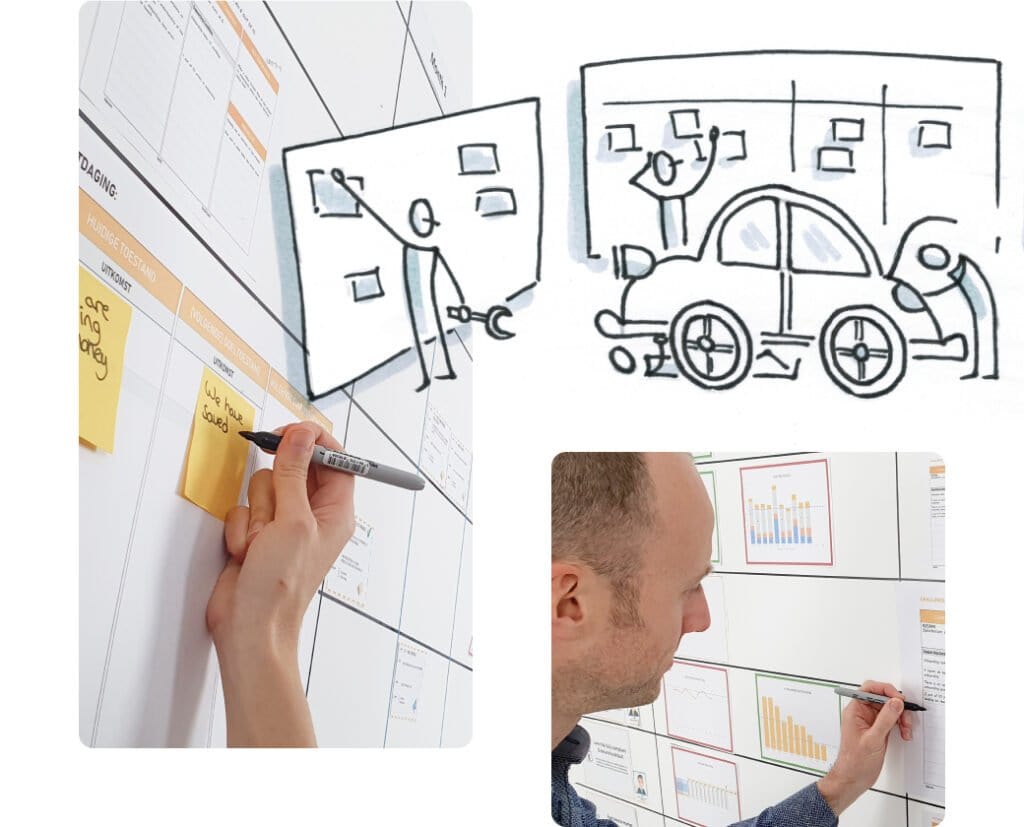 What is the Leading with Obeya method?
Tim Wiegel has described the Leading with Obeya method in his book. He explains how the Obeya as described above can be used as a tool for leading a team or organization. Leading with Obeya is the method, and the Obeya is the tool that is used in this method.
Developing a project or strategy according to the Leading with Obeya method, means visually representing it on the walls of a room. In this way, goals and problems become visible to everyone. The method offers a practical, concrete working method for leadership teams who want to collaborate more effectively. And here is the good news: The Leading with Obeya (LWO) method works for any team and any organization.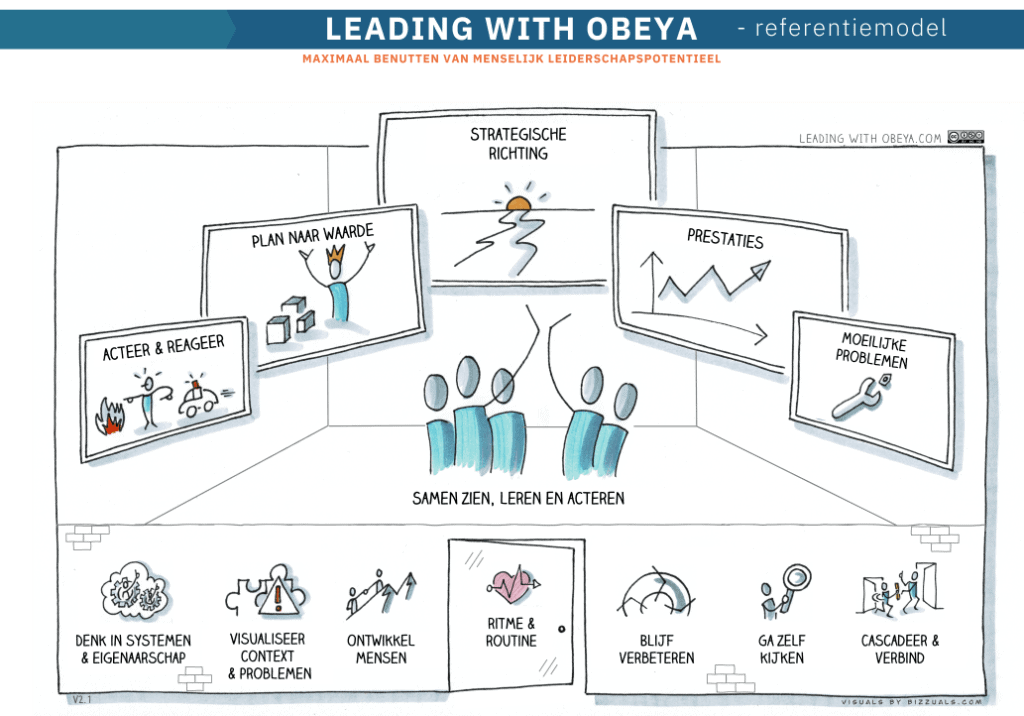 What is in the Obeya room?
The Obeya (big room) has multiple boards in it to visually represent all goals and tasks within the organization.  The main boards in an Obeya are focused on the following topics: Strategic direction, performance, Plan to value, Problems and Act & respond.
What are the objectives of Obeya? Why work with it?
You learn to improve collaboration, and clearer responsibilities emerge. Goal formulation becomes sharper and cohesion increases in everything that needs to be done to achieve the goals
You make visualizations of the work to get clarity on where you are and where you want to go
You can discover problems that are on your path
The clever meeting methods will help you fine tune and share the context in which you all work. In this way, you can arrive at effective actions and decision-making together
Ultimately, people come together in the Obeya to see, learn and act together to achieve the intended strategic goals.
In short, Obeya helps you realize your organizational strategy by continuously linking strategic goals and daily operations.
Who is it for?
The Leading with Obeya method can be applied by any team that shares a common goal – in any type of organization or sector. There is plenty of proof, on a worldwide scale, that Obeya is truly successful everywhere!
It doesn't matter whether your company or team is large or small, but it is crucial that you take the starting conditions into account!
Starting conditions
The team must understand what they are in for (in other words, the Obeya must be thoroughly explained)
The team's 'boss' is 100% committed and the team itself is ready to go
There is a suitable facilitator to help the team hold effective Obeya sessions. Ideally, this person already has experience with or completed training in the method.
Start using Obeya!
Are you interested in getting an effective start with the Leading with Obeya method? An excellent idea that you and your team are sure to reap the benefits of. If you want to find out more about the method, here are some ways to get started:
Would you like to learn more about Obeya, our training courses or the book? Please feel free to contact us using the form below. Did you know that you can also gain more knowledge from other managers who apply the Obeya method? You can read more about our network here.